B2B App Opens Doors for Creators, Founders, Thinkers
---
Singapore, 15 October 2021
Organised by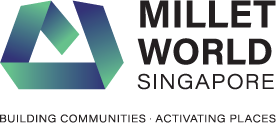 In partnership with

Official online launch of the B2B mobile app OPEN DOOR Friday 15 Oct 2021 at 4 pm
A new mobile app to enable small and medium enterprises throughout Asia to forge new partnerships and sustainable growth hits the market today with the launch of OPEN DOOR.
OPEN DOOR is a community application built on a network of member networks with the means to grow exponentially. Shared deals, projects and tenders help members to cast a wider and wider net beyond physical borders and designated travel lanes. An expanded reach translates into higher chances for business opportunities.
This app is the initiative of Millet World, a place making company with a key focus on building communities through a phygital platform. Phygital blends the physical and digital in Millet World's member experience strategy. Since 2016, Millet World has been providing consulting and project management services that forge synergistic partnerships at the intersections of the arts, creative and corporate communities.
It has organized networking events, including trips for entrepreneurs and youth leaders from Singapore to meet industry counterparts in Southeast Asian capitals such as Jakarta and Manila. Unlike current corporate social channels like LinkedIn, a dedicated by-invitation-only app like Open Door offers business leaders the opportunity to connect in a community of like-minded individuals in a trusted environment.
Millet World Board Chairman and well-known artist Mr Sun Yu-li says, "The current situation arising from the pandemic is preventing founders and CEOs from cultivating business opportunities like in-person meetings and business gatherings. Without face-to-face engagements, how do leaders keep in close touch with their prospects and customers in a limited social environment? With OPEN DOOR, each member is given the opportunity to create a new kind of network, by belonging to a digital community through mutual associates, contacts and referrals. This gives business leaders access to a network of networks to connect creatively in an atmosphere of camaraderie and trust. This is the value OPEN DOOR offers to its members."
With OPEN DOOR, members stay up to date on activities and developments that happen within the OPEN DOOR community which include members from financial services, technology, real estate, education, fine art and culture, and social enterprise.
Through Open Door's various menus, members
are kept informed of tenders and projects in B2B Marketplace,
enjoy exclusive member benefits and discounts at F&B and retail venues
initiate and enjoy discussions in Conversations with likeminded people,
create contacts through one-on-one or group Messages,
sign up for activities and events on What's Happening, and upload their business events
The mobile app gives members the ease to contact associates, partners, and make connections to enlarge their current spheres of influence.
OPEN DOOR was created by tech firm Bundeling, headquartered in the Netherlands.
Bundeling's International Business Development Manager Gard Valckx says: "Our partnership with Millet World and the Open Door application focuses on positively impacting businesses across Asia. Collaboration is at the heart of so many things these days. The world is becoming more interconnected every day, and it is increasingly vital for organisations to work together, communicate and help each other out. The Open Door app will be the first step in the new future of networking. It will help members communicate, build their business, and form meaningful relationships to create and use the synergy between their companies. We look forward to how our partnership with Millet World will 'Open Doors' to opportunities and improve economic prosperity for all the members."
Access to OPEN DOOR is by invitation here: milletgroup.sg/world/open-door/. Prospective members pay an annual subscription of S$180.00 upon which they will receive an invitation to download the app through the Apple App Store or Google Play.
You are invited to register to attend the online launch of OPEN DOOR here.
---
CONTACT DETAILS:
Ms Yu-Ming Siow
Millet World, TRCL group of companies
yumingsiow@trcl.sg
+65 9641 5608
Notes
Bundeling
Bundeling started in 2017 with the vision to connect stakeholders and organisations in an intelligent and innovative way. The Bundeling platform provides a central communication and information hub where users can connect, interact, and share information quickly to ensure stakeholder satisfaction on every level. Bundeling currently helps more than 600 sports organisations, government agencies, associations, communities, and companies across 15 countries worldwide to connect smarter. bundeling.com/en
Millet World
Millet World, part of the Millet Group of companies, was incorporated in April 2016, and is the enterprise arm of arts organisation, TRCL, which includes placemaking. Millet World has been providing business consulting and project management services that forge synergistic partnerships at the intersections of the arts, creative and corporate communities. As a collective of community leaders, Millet World continually seeks to transform synergistic partnerships so that these, in turn, can transform the communities we live in. milletgroup.sg